Normandy
,
France
, where I spent minutes, hours and years devising plans on how to leave the land of cream and apples, go to a bigger city, a bigger country,
elsewhere.
And I eventually made it to the next big town, then to
Paris
, then to
Los Angeles
.
Now, here I am, reading through wonderful food blogs, many of them describing the simple life on a farm, eating what you grow, the return to the soil, and I find myself irresistibly charmed by the whole idea. Did I go around in a circle all these years? I suppose it is what I learned, where I failed, the joys and sorrows and experiences along that circle which make up my path thus far. All to find myself longing to get back to where I started, appreciating now what I took for granted then. Maybe that's what wisdom is all about. Finding my way back to the apples.
They're also building from the air down. He speaks of bees, he knows so much about them. He's not a beekeeper, he's a bee-charmer, devising ways to make the bees want to set up hive and produce honey here, and pollinate the fruit trees. It's already working, the trees are more bountiful this year than ever before.
Franka and I sit under the nectarine tree, talk about being expats, living improbable lives here in LA, lives we would have never imagined as kids. Meanwhile, 13 and 14 months old Dexter and Pablo help picking the apples, take a single bite out of each one they grab, before handing it to each other. Sharing an apple under the tree. I think this makes us all feel happy and warm inside. We're all thankful to be spending this vacation day of sorts together.
Voltaire said it. "We must cultivate our garden". I understand how profound that phrase is so much more fully than ever before. What a breath of hope and joy to see someone truly practice that. That is most definitely what is happening at Gopher Springs Farm, and I look forward, like the patient (or impatient) gardner-in-training that I am, to watching them grow...
Peach Lavender Custard
Makes 6 ramekins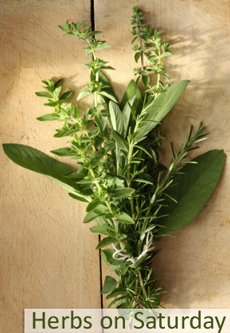 Check out Bangers & Mash hosting Herbs on Saturday this month!
http://bangermashchat.wordpress.com/2012/07/01/july-herbs-on-saturday/
Check out Lavender and lovage for more on the herbs on saturday contest!
http://www.lavenderandlovage.com/herbs-on-saturday
Pin It