Children can teach us so much and vastly improve our lives. Being with Pablo has taught me how to be fully engaged in the present, how to appreciate the process of things without impatience, how to marvel at the amazing power of human connection. And thanks to him, we're also motivated to eat wholesome, delicious and healthy foods day in and day out.
Now that Pablo is 15 months old, I'm doing less and less purees and have to come up with creative and yummy ways for the whole family to eat a lot of vegetables. He has been exposed to pretty much every vegetable I could think of since he's
five months old
and really enjoys their flavor, so it's now up to me to live up to that appreciation by offering vegetable dishes that are actually
good.
Steamed and boiled plain vegetables can be dreary, and as I was going through a book we got at Christmas called
The Food of Spain
by Claudia Roden, I realized the Spanish really know how to make their veggies look - and taste - sexy! Stuffed peppers, marinated mushrooms... and of course, the
gazpacho
, among many others.
I found this recipe using parsley and artichoke bottoms, and even though I find artichoke somewhat daunting to prepare (not a last minute kind of veggie), this recipe made me a convert: it is worth the trouble! Just because it's fun to combine
food rituals
, we served it with a soft boiled egg and parsley mouillettes (strips of bread, usually buttered, you dip into the egg yolk - a ritual & tradition French kids adore), and of course chewing on the
artichoke leaves with vinaigrette
. Let me just tell you: it was finger-lickin' good! It's so great to be able to say that about something else than fried chicken! Pablo simply devoured it (I think chewing on the artichoke leaves was therapeutic for the teething as well.) It just felt so wonderful to have such a healthy meal be so scrumptious.
Artichoke bottoms with green sauce
Inspired from "The Food of Spain" by Claudia Roden
Age
: 8-10 months, maybe before, if your child has previously tasted all the ingredients (for allergies.)
Health benefits
: Artichoke is an amazingly nutritious food, with antioxidants and fiber, great for the liver & digestion. Parsley has vitamin C, A, K & antioxidants, among many nutrients.
Serves 4
4 large artichokes
1/2 slice of white bread, crust removed
2 garlic cloves
2-3 tbsp olive oil (for frying the bread) + 3 tbsp (for the mixture)
1 tbsp white wine vinegar
1/2 to 3/4 cup chopped Italian parsley (only leaves, no stems)
Wash the artichokes and cut off the ends of the stems. Plunge them in boiling water, cover and cook until tender, about 25 mn. (If the leaves can be pulled easily, it's done.)
Fry the bread and whole garlic cloves in olive oil over medium heat, until brown all over. Drain on a paper towel.
Place the bread and garlic in a food processor, add the vinegar, parsley and olive oil. Blend until you obtain a creamy sauce. (Add a little olive oil if it's not creamy enough).
Once the artichokes are cooked, drain and let cool. Then pull off all the leaves, to be eaten with vinaigrette as appetizer, as described
here
.
Carefully pull off the "fur" to get to the bottom... of the artichoke ;-)
Scoop some parsley mixture in the artichoke bottom and serve at room temperature.
Serving suggestion:
With a soft boiled egg (3 mn in boiling water) and the classic French "mouillettes", spread with some of the remaining parsley mixture. Dip away!
Note
: for Pablo, the texture of the bottom was a little too crunchy, so I pureed it (grossly) with the parsley mixture and he ate it right up!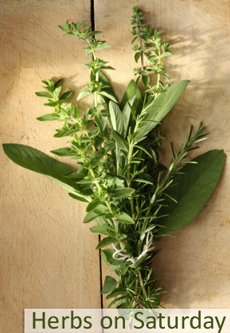 Check out Bangers & Mash hosting Herbs on Saturday this month!
http://bangermashchat.wordpress.com/2012/07/01/july-herbs-on-saturday/
Check out Lavender and lovage for more on the herbs on saturday contest!
http://www.lavenderandlovage.com/herbs-on-saturday
Pin It